F.A.Q
Is there a cost to be enrolled in the Tires for Life Reward Program?
No, this is an complimentary service loyalty rewards program for which there is no fee or charge.
If I miss a service interval will I be eligible for Tires?
No, all Bertera maintenance services must be completed to qualify for tires.
Is there a grace period between service intervals that is acceptable and reasonable?
Yes, there is a grace period of 500 miles or 1 month, whichever comes first.
Can I service my car at another repair facility and still be eligible?
No, all Bertera maintenance services must be performed at this Dealership.
Will a tire failure due to a Road Hazard be replaced at no cost?
No, Road Hazards are not eligible. Optional Road Benefit is available for purchase.
If the tires wear unevenly will I be eligible for replacement tires?
No, failure to maintain proper alignment and tire pressure will result in denial of tires.
Are all vehicles sold by Bertera Dealerships eligible for the Tires for Life Rewards Program?
No, electric vehicles, summer tire equipped and those requiring specialized services are not eligible.
Do I have to return to this Dealership to apply for Tires?
Yes, prior authorization is required and our service team will aid in the processing of your rewards claim.
What is the maximum amount for an eligible tire?
The amount per tire is variable and may be up to $75, $100 or $150 per tire based on miles driven since purchase or prior replacement.
Will I be reimbursed for the cost of the mounting, balancing, disposal and valve stems?
No, the customer is responsible for the cost of mounting, balancing, valve stems, applicable sales tax and disposal.
Does the Dealership determine if I qualify for the tire(s)?
No, eligibility is determined by the Rewards Administrator listed on the agreement.
Will the Dealership notify me when a service is due?
No, it is the customer's responsibility to schedule and perform all the required BERTERA MAINTENANCE Services as outlined in our Service Department Maintenance Booklet.
However, normally a Service Reminder Sticker will be placed on the upper left corner of your windshield!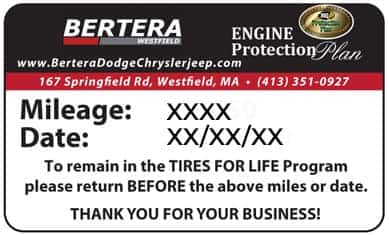 Bertera Dodge service staff will be glad to assist you in filing a claim.